About
100% enthusiastic,
100% ethically made
Festa Foresta is an Italian independent brand established in spring 2020 by the vision of the creative mind of Laura Zura-Puntaroni, Italian architect with a nomad soul, currently based in Milan.  
The name FESTA FORESTA comes from a daydream: the word FORESTA includes in its spelling the world FESTA and connection with Nature end Enthusiasm are two of the main features of the brand.
FESTA FORESTA is ethical, sustainable and 100% made in Italy in small bench, with maximum care and attention to finishing. Obsession for details finds its maximum expression in simplicity.
Products' high quality is ensured through an ethical and sustainable approach. Main goal of every single stitching is to make the wearer feel comfortable with their body.
Inclusivity
Embracing all bodies
We don't necessarily want you to feel sexy, we want you to feel good. Each of our garments, from briefs to shirts, is studied and designed to adapt to all bodies, to celebrate every curve and to make the wearer feel at ease.
We want you to feel at ease with yourself and we know that this feeling often comes from the perception of what we have in contact with the skin. Our garments are so comfortable that you will hardly wear anything else.
We know how difficult it is to recognize ourselves in the photos we see on the web and to find the right fit.
We decided to show each of our garments worn by different body types, but to make choosing the right size less complex we also included a specific guide with each product.
Fabric and Suppliers
Sustainability as
a starting point
How can a fashion brand be sustainable? Our commitment starts from the fabrics: we work exclusively with sustainable yarns, which are either recycled, such as ECONYL® regenerated nylon from pre and post-consumer waste, or which have chemical characteristics in their composition such as to allow them to leave no trace in the environment once they are discarded.
Our commitment is not to use any "new" fabric or one that could create waste in the future.
All the fabrics we use are produced in Italy, often by very small companies with which we deal daily and share values and believes.
We make sure that each fabric used respects the strictest certifications in the field of sustainability. Do you want to know more about our research?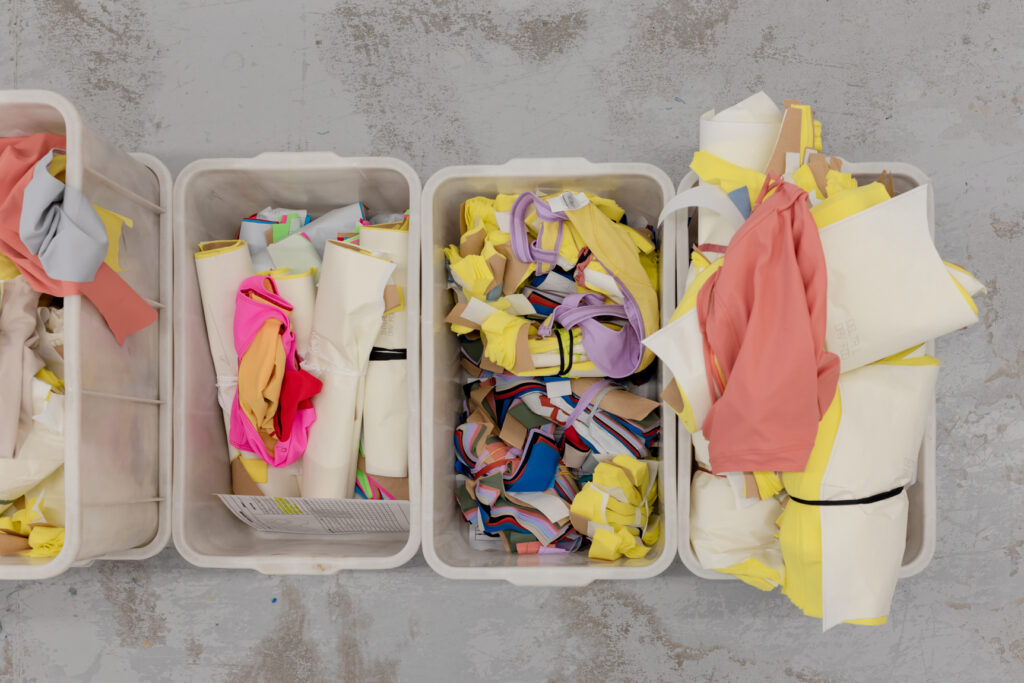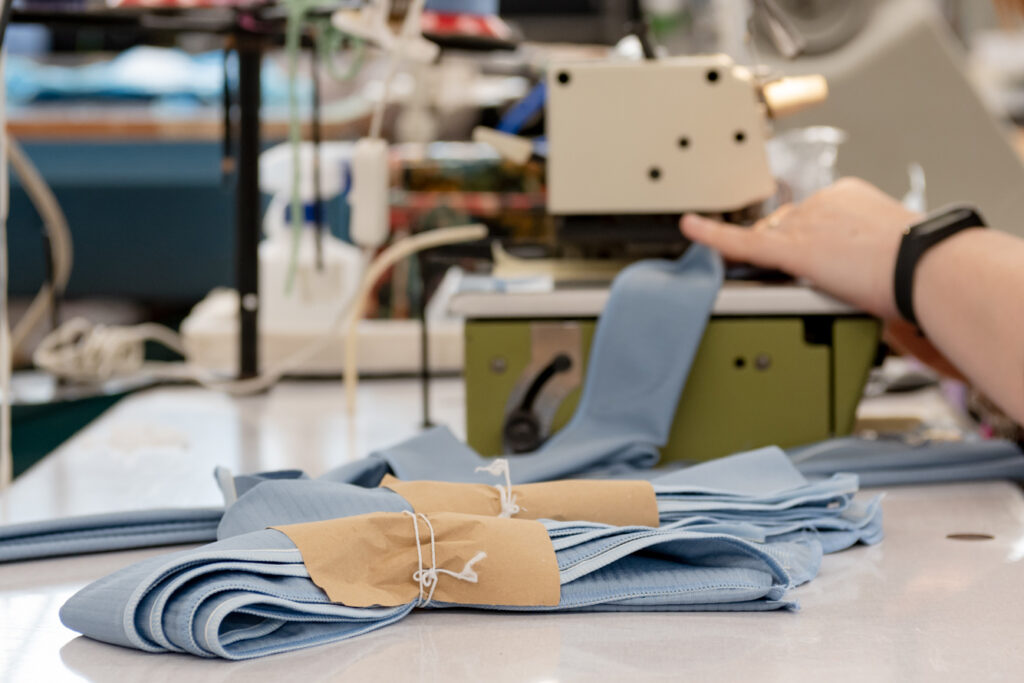 Workshops and Production
Ethically made in Italy
All our garments are manufactured relying exclusively on small family-run Italian laboratories, divided between the Marche region and the Lombardy region: depending on the final product, we rely on the most specialized workshop: the obsession for detail is declined in the attention to each seam.
We promote regional production, to avoid long transports and waste of CO2. We produce only what is needed, in sufficient quantities, without surplus: we respect the slow times of artisanal production, done with care and attention.
We try to introduce only timeless pieces that last for years on the market: we do not believe in the seasonality of fashion and we do not adhere to policies of inflated prices at the beginning of the season and fictitious discounts: every garment we produce is made thinking that it must be the best thing on the market and last for years.
Packaging and Shipping
Maximum attention
to every detail
Attention to detail – and to the environment – can be seen from the product but we think that care also comes from very small details, such as the packaging. We do not use virgin plastic in any process of production, packaging and shipping. All our garments are protected by soft cotton bags, produced in Italy using 100% BCI certified cotton.
A yellow box serves as the hard shell of the product, it is handmade in Italy using recycled cardboard. We are also not compromising on shipping boxes, that are made using exclusively FSC paper. It means that all materials used come from responsibly managed forests.
Please note that all our packaging is reusable and above all it has been designed to be reused: the cotton bag is perfect to be used as a travel bag for small items, while the yellow box will be a faithful ally for storing anything that comes to mind: from jewelry to make-up, from tea to spices – it is perfect even for candies!